NEWS & EVENTS
2023 Stewardship Campaign Goal: $1,955,000
Watch your mail for your 2023 Stewardship Campaign packets or click here to submit your pledge electronically. Please return your pledge card by November 15th.
Please remember all current and incoming school families (K - 8) are required to have a current pledge and 12-month tithing history to be considered an active parishioner.
Thank you for your faithful stewardship and commitment to St. Elizabeth!
Reverse Advent Calendar...try this fun, generous and non-traditional approach to your home's Advent Calendar. Learn more and get your calendar here.
Happy Advent! We hope you enjoy our annual Advent Reflections Booklet, featuring daily reflections from fellow parishioners. A special thanks to all who contributed their time and talent in making it possible!
By purchasing a gift or contributing a monetary gift, you are helping to make the Christmas season joyful for many of our neighbors. Learn more
The Solemnity of the Immaculate Conception of the Blessed Virgin Mary is Thursday, December 8, a Holy Day of Obligation. The Parish Office will be closed on Thursday, December 8 for the Feast of the Immaculate Conception. Mass times are as follows: 7:00am, 11:30am and 6:00pm
All men of St. Elizabeth: Join us for our annual BACONFEST, hosted by the Knights of Columbus! Thursday, December 8 at 7:30pm in Seton Hall.
PASTOR'S CORNER
November 27, 2022
Dear Parishioners,
Just as a calendar year begins on January 1, a new Liturgical Year begins on the First Sunday of Advent. So we stand on the threshold of a new year of grace. I love how we begin the new year with the end in mind: Advent is preparation for the coming of Christ, not just here and now, but also at the end of time. It's easy to focus more on the birth of Christ, but this season is also meant to sharpen our senses and deepen our longing for the ultimate arrival of Christ, the second coming, the fulfillment of all God's promises. I know that's a more abstract theme, but relevant all the same to the tone of this season.
Weekly reading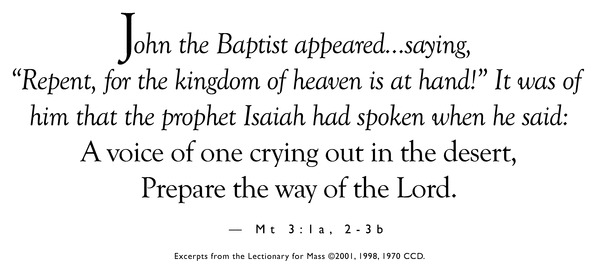 Weekly reading
Readings for the week of December 4, 2022
© Liturgical Publications Inc